Hello there,
It is a big day today!
Why? Because ten years ago, on the 14th of april the first page of The Legend was born, and my comic drawing adventure began. (Expect a long monologue)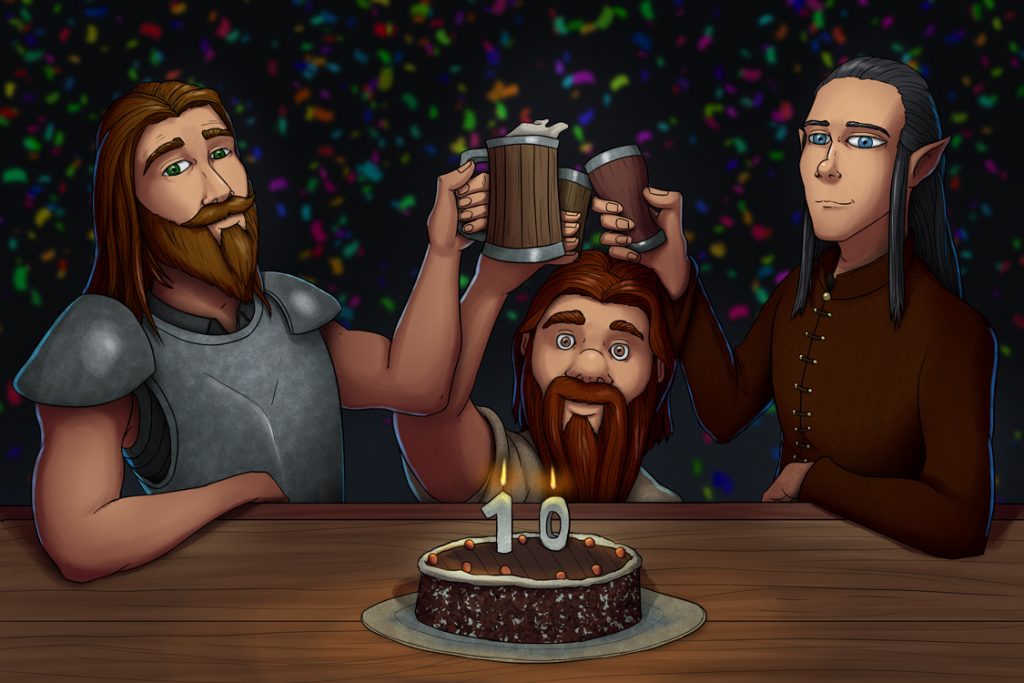 It was a long long journey, which is still ongoing. Many things happened during these years regarding the comics and my art. I think this is a perfect time to share these things with you, together with some behind the scenes stuff too.
Let's begin with the beginning, about how did the idea of making comics came out from my head. As you could read in the "New readers" page, I was playing a lot of DnD like game sessions with my friends back then in highschool. With the end of the school era, everyone was going to different areas and places, college, work and stuff, thus these sessions ended. But I was missing those stories and adventures, so I've decided to create a comic about them and about the characters we were playing.
At first I was drawing my doodles and sketches physically on paper. After many hours of trying, I managed to find my style, although I was a really-really amateur artist with really bad drawing. But I think it's fine. You have to begin somehow somewhere.
During the DnD sessions we've had many characters, who unfortunately died… because we were playing in a cruel world of our DM. It was like playing Dark Souls. I've decided to choose Morten, Brem Ghdin, and Nandiel for the comic, because those were the closest ones to us, the original real-life players.
Fun fact: Morten was my character, and the first Morten character I've played was an old and strong bastard grandpa, but then changed him a little bit (Yeah during our playing sessions, he was also dying alot and had to recreate the character many times).
The very first drawing I've created for The Legend was the following picture:
Using Photoshop and a lot of patience required from me to enhance the raw pictures into a cleaner one, what can be put into a comic page. As you can see, these images are actually photos of the original paper. Since I didn't have a scanner back then, I was using my old and trusty SonyEricsson K750i phone to take those pictures. I don't use that phone anymore, but kept it for the memories and because it deserved it after many years of use.
After a while I managed to get a scanner for my papers (You can see a change in the beginning of the Chapter 2), and I was quite happy with the results, the whole thing was getting better and better. Approximately a year passed and since I was using the Photoshop for converting my pencil art into digital, I've decided to make everything digitally (Chapter 2 Page 12).
First I was using my mouse to draw my pictures. It wasn't easy, but was fun to do it, you can get used to this weird technique.
Fun fact: The original language of the comic was Hungarian, and the title was "A legenda" (Wich means The Legend).
Much more time passed, and then got enough savings to buy a Wacom Bamboo tablet (Chapter 2 Page 76), which almost changed everything. My drawings became prettier and I started to draw consistently. I even began some revamping back then, but then decided to not continue that. I wanted to keep my old pages as they are, because this way it shows how did the comic really began (and because it would take another 10 years to revamp everything, and I don't have the luxury of spending all my time doing only that).
The ending of the 3rd chapter was almost a real end for The Legend as well. It was a beginning of a long hiatus which lasted for about 1-2 years. During that time I was trying out new things and amongst them I've created "The Secret" (in secret). And as we are speaking about "The Secret"…It wasn't "The Secret" in the beginning, it was called "Flowers of Revenge", but the original story was a little bit…well…crappy. So I decided to change it, and focus on Ghilrond.
You can read the original storyline here. It was continuing after Ghilrond fired the arrow with the message to Luvendiron. (I felt a little bit embarrassed sharing this with you, but I do it anyway)
In the end I was really missing the old fellas, and somehow wanted to have both of these comics and my arts under a common title, and never ever abandon them again. Thus the Tales From Somewhere was born.
Fun fact: I was creating a little side comic named "Tökkelütöttek" back then, what was a parody of roleplaying idiots in a fantasy world. That story was started again with the short comics named Pumpkins, they are here in the Other Stuff section.
After the hiatus, I've began to have more and more time to draw (because ended my college studies, no more homeworks, etc.), and finally could improve my skill a lot. I am really proud of it, and if you had read all of my pages from The Legend, I am sure, or at least I hope, that you could also see the improvement. And of course, this progress of improvement is not ended yet, still got a lot to learn and a lot to do. Many things are ahead.
Fun fact: There is an easter egg character in The Legend, who is almost always there in the crowd. His name is Jim.
My next plan is to move forward with The Legend and complete the story of The Secret. It would still take years to achieve this, because I am still a one man army, but I am satisfied with this situation. I am only missing a time machine or some kind of a device, what could stop the time for many hours to be able to do all the things I planned. I hope I can show you everything before my time runs out.
Many thanks to the wonderful people, who are still here and reading the comics since a long time, or since the beginning. Thank you very much for reading this little writing, and for checking my comics if you do so. Have a nice and lucky day.
Regards,
Pinter